CURRENT & UPCOMING DEALS NEAR Sugar Land, TX
Earn Rewards every time you shop with us!
We want to reward our many loyal customers for supporting local! Thank you for choosing Wishbone Pet Care!
Frequent Shopper Rewards:
For every dollar spent, you will receive one point. After earning 250 points, you will receive a $5.00 store credit. These credits are stored under your customer account.
Earn FREE food through Astro Loyalty. We track the purchase of your pet's food, treats, supplements and supplies. It's free to sign up and you can download the mobile app to keep track, as well as receive new discount offers monthly. Make sure and sign up next time you're in!
Download the Astro Loyalty App:
Click here to see monthly offers & frequent buyer programs

Click here to see our new Astro Adoption Bundle program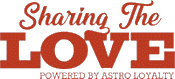 No Promotions Currently Available, Check Back Soon!
Come visit us at our Missouri City or Sugar Land location. We focus on your pet's wellness and only carry the higher quality food, treats, toys and more.