When your vet recommends a bland diet.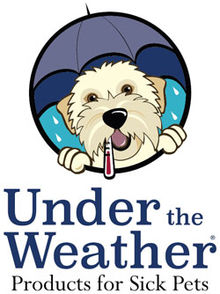 Under the Weather® was inspired by Ruffy, the founder's Wheaten Terrier, after going through a bout of digestive upset. Their veterinarian recommended putting Ruffy on a "bland diet" of cooked chicken and rice until healthy digestion was restored. After the inconvenience of shopping and cooking, she became determined to develop a more convenient solution for busy pet parents.
Bland Diets
Bland Diets for Dogs: Oatmeal & Bison, Rice & Chicken, Rice & Salmon, Rice Chicken & Pumpkin, Rice Hamburger & Sweet Potato, Rice Turkey & Sweet Potato
Pet Supplements
Supplements for Cats: Calming, Hairball Support, L-Lysine, Probiotic, Ready Balance, Ready Cal, Urinary Support
Supplement for Dogs: Calming, Probiotic, Ready Balance, Ready Cal
Come visit us at our Missouri City or Sugar Land location. We focus on your pet's wellness and only carry the higher quality food, treats, toys and more.