Take a break in P.L.A.Y.'s Scout & About Outdoor Collection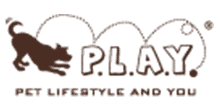 Wishbone Pet Care is proud to carry P.L.A.Y. in Missouri City, Texas. P.L.A.Y. makes quality dog beds with pets, people, and the planet in mind. When we were looking for quality dog beds for our own four-legged friends, we couldn't find one that fit our lifestyle as modern pet owners, so we made our own.
Each bed is crafted for maximum comfort and ergonomic support, feature stylish and easy to care for covers, and are made from sustainable materials to protect Mother Earth.
Dog Product
Toss & Float Toy
Barbell Rope Toy
Tug Rope Toy
Tug Ball Rope Toy
Honeycomb Rope Toy
Cat Product
Mutt Hatter Plush Toy Collection
Peek-a-boo Mouse Interactive Cat Toy
Honeycomb Rope Toy
Feline Frenzy Plush Toy Collection
Come visit us at our Missouri City or Sugar Land location. We focus on your pet's wellness and only carry the higher quality food, treats, toys and more.