Custom & Handmade Dog Collars for the Fashion Forward Pooch!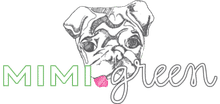 Wishbone Pet Care is proud to carry Mimi Green in Missouri City, Texas. We are ready to bring exciting, good quality, good for you, stylish dog products into your life.
We want the items you choose for your dog to mean something to you.
When we were kids my sister named her security blanket Mimi Green. She still sleeps with her to this day, 30 years later. She is handmade, she is functional, she still looks good, and most importantly, she makes my sister FEEL good. Can't ask for much more than that!
Come visit us at our Missouri City or Sugar Land location. We focus on your pet's wellness and only carry the higher quality food, treats, toys and more.