Food for the fussiest cats!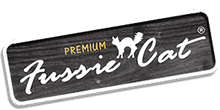 Wishbone Pet Care is proud to carry Fussie Cat in Missouri City, TX. Cats are notoriously fussy when it comes to their food, and it isn't just to test your patience! Biologically, cats are true carnivores. As such, nature demands they eat a diet based on animal proteins to thrive. That's why our Fussie Cat's Physiologically Correct recipes always start with meats rich in complete proteins as the main ingredient. But it wouldn't matter how nutritious the food is if your cat won't eat it, so they tailor the taste of their recipes based on actual feline feedback to ensure it's equally delicious. When they say their food is Co-Created by Cats, it isn't just a slogan, it's the secret to everything they make.
Cat Food
 Canned Cat Food: CHICKEN WITH DUCK, CHICKEN WITH EGG, CHICKEN IN GRAVY, CHICKEN WITH SWEET POTATO, CHICKEN AND VEGETABLES, CHICKEN AND BEEF, CHICKEN WITH CHICKEN LIVER, TUNA WITH THREADFIN BREAM, TUNA, TUNA WITH SMOKED TUNA, TUNA WITH ANCHOVIES, TUNA WITH CHICKEN, TUNA WITH CLAMS, TUNA WITH MUSSELS, TUNA WITH OCEAN FISH, TUNA WITH PRAWNS, TUNA WITH SALMON, TUNA WITH SHRIMP, TUNA WITH CHICKEN LIVER

Dy Cat Food: SALMON, SALMON & CHICKEN, SALMON & TURKEY, GUINEAFOWL & TURKEY MEAL, QUAIL & DUCK MEAL
Come visit us at our Missouri City or Sugar Land location. We focus on your pet's wellness and only carry the higher quality food, treats, toys and more.