Your Best Friend's New Best Friend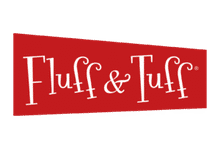 Wishbone Pet Care is proud to carry Fluff & Tuff in Missouri City, Texas. Chris and Ellen Lawson founded Fluff & Tuff in 2010. They are both lifelong dog lovers, and the inspiration for Fluff & Tuff actually came from their own experience. After years of buying ordinary plush toys and seeing their dogs either tear them up too quickly or simply lose interest in them, Ellen began to wonder why all of the plush toys available for dogs were so cheaply made – especially when there were plenty of well-made plush toys for children.
Dog Toys
Monty Python, Gordon Stingray, Tico Sloth, Manny Lobster, Violet Unicorn, Cedric Tortoise, Edsel Elephant, Mac the Shark, Nuts Squirrel, Walter Wabbit, Sadie Bear, Lola Flamingo, Albert Monkey, Big Daddy Gator, Georgia Gator, Savannah Baby Gator, Hendrix Fox, Gil Koi Fish, Finn Koi Fish, Ruby Rainbow Trout, Burt the Lake Trout, Molly Fish, Esmerelda Turtle, Shelly Turtle, Willie Orca, Tank the Shark, Football, Leapard Ball, Tiger Ball, Beach Ball, Ike the Pheasant, Wally Mallard, Jimmy Parrot, Woodrow Owl, Rocket Racoon, Boomer Tiger, Nelly Giraffe, Katie Caterpillar, Mary Lamb, Clyde the Horse, Tina Alpaca, Lucy Skunk, Leo Lion, Petey Pig, Howie Duck, Olive Frog, Helga Hippo, Marge Cow, Jessica Bunny, Peanut Chipmunk, Lady Bug, Skipper Penguin, Harriet Hedgehog, Cubby Bear, Louis Cardinal, Medium Zebra Ball - Squeakerless, Small Zebra Ball - Squeakerless, Extra Small Guppy Fish - Squeakerless, Large Red Squirrel - Squeakerless
Come visit us at our Missouri City or Sugar Land location. We focus on your pet's wellness and only carry the higher quality food, treats, toys and more.