Do-it-Yourself Dog Washing
Providing your dog a bath in your house means blocked drains, muddy bathtubs, and a sore back. At Wishbone Pet Care, we eliminate the mess and stress with our self-service dog wash in Sugar Land, TX. Our elevated bathing tubs accommodate pets as small as a Maltese, and as big as a Rottweiler. Call (281) 242-7297 with any concerns about do-it-yourself pet wash add-ons such as shampoos, conditioners, and the FURminator Deshedding treatment. Our helpful, well-informed crew are happy to answer any questions you may have.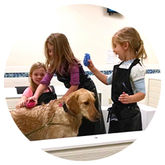 Self-Service Dog Wash
Our self-service dog wash permits you to stand in comfort at the dog washing station, and we provide all the things needed to give your dog a professional wash.
Come visit our pet supply store in Sugar Land, TX specializing in quality food, treats, and supplies for cats and dogs.